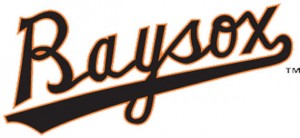 The Bowie Baysox announced that their lovable mascot Louie is ready for March Madness and he is celebrating it with pie. Louie's Pie Madness extravaganza will feature two special ticket offers and a bracket-style tournament to determine Baysox fans' favorite dessert pie leading up to the Baysox in-season celebration on Pi(e) Day Friday, April 12 at 7:05 p.m.
Promotions Manager Chris Rogers is the brains behind Pie Madness. "Most people celebrate the totality of Pi and pie on one single day: March 14 (3.14), but the Baysox believe pie is too important and too delicious to limit to just one day," Rogers explained. "Following last year's fruitful efforts, we will once again celebrate both the crucial math constant and delicious dessert throughout the month of March.  We're even extending the celebration into April and Baysox baseball season with a dedicated theme night on April 12th. Last season apple pie was crowned the Pie Madness Champion and our hard-working selection committee has tweaked this year's bracket to include different varieties of the delicious treat.  I am excited to see if another contender can unseat this culinary juggernaut."
The Baysox have partnered with Bowie's own Best Pie Company to provide pies to the first 30 fans to purchase an $88 Fielder's Choice pack by visiting www.baysoxshop.com. The Fielder's Choice pack includes eight Box Seat tickets that can be used in any amount at any game and during this special limited time offer, the Baysox will also include your choice of a fresh baked apple, key lime or three berry (blueberry, blackberry and raspberry) pie with the ticket pack purchase. Louie or another Baysox staff member will personally deliver your fresh pie within a 25 mile radius between 1 and 5 p.m. Monday-Friday during the month of March.
Finally, on Pi Day, Wednesday, March 14 (3.14), the Baysox are offering General Admission seat tickets to any of the first seven games of the 2013 season for $3.14 using the special ticket code PIE314 (limit four per transaction) when ordering on baysox.com. Through this one day offer, a family of four will have the opportunity to attend an early season Baysox game for less than $13.
The Baysox are also searching for the top pie in the land during the month of March. Starting Monday, March 4, a 16-pie bracket will be whittled down through voting on the Baysox Facebook page to one winner crowned the Baysox Pie Madness champion. For every vote made on the Facebook poll questions, fans will receive an entry into a raffle to win a Baysox 2012 team-signed baseball so make your voice heard to determine the best pie in Bowie.
Category: Entertainment, LIFE IN THE AREA, OPINION, Sports