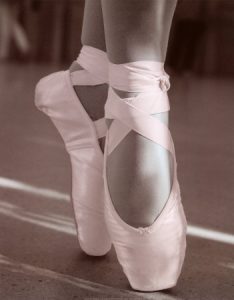 Ballet Theatre of Maryland (BTM), the state's premier professional ballet company, will showcase Antony Tudor's Continuo on its April program, Director's Choice.
Staged by répétiteurs  Amanda McKerrow and John Gardiner from The Antony Tudor Ballet Trust, Continuo is a classical ballet for three couples.  The ballet was originally set in on the Julliard Dance Ensemble with a professional premiere in 1976 set on the Syracuse Ballet Theatre.  It is described as "one long lyrical out-pouring" and characterized by its flowing, non-stop movement, set to Pachelbel's iconic Canon in D.
Continuo joins four other pieces inspired by the American experience and choreographed by Dianna Cuatto: American Ballads, Interlude, Vortex and Rites of Passage.
Danced to traditional American folk songs, American Ballads is a three-part ballet celebrating the spirit of the nation.  An expertly arranged showcase of styles, American Ballads weaves together the classical, romantic movement of the vintage "white ballets" (such as Giselle and Les Sylphides), together with dramatic, emotionally poignant contemporary ballet, and the exuberance of Balanchine's Stars and Stripes and Who Cares?
A spin on the classic boy-meets-girl storyline, Interlude is premiering as a collaborative effort between choreographer Dianna Cuatto, composer Meg Robinson, and harpist Julia Frazier, all members of the National League of American Pen Women.  This intimate ballet explores the shifting dynamics of romance – the celebration of new love, the tensions of familiarity, and the transitions that follow.  Harpist Julia Frazier will provide live onstage accompaniment.
Vortex is an abstract multimedia performance set to music by local composer Marc Galiber honoring the four primary energy power spots of Sedona.  From the hidden crystals at the base of Bell Rock to the meditative properties of Cathedral rock, the soaring masculinity of Airport Mesa to the ancestral origins of Boynton Canyon, each vortex possesses its own unique characteristics and mythology.
Inspired by Native American beliefs, Rites of Passage focuses on the rituals that comprise the journey of life.  Set to jazz and drum music by Al Pettaway and Amy White, Rites begins with the community of one's youth and travels through life's major milestones – initiation into adulthood, first love, first loss, marriage, birth, play, eldership, memories, dreams and, ultimately, the great crossing where one rejoins the community.
Performances will take place at Maryland Hall for the Creative Arts in Annapolis, April 12-14, 2013.  Tickets start at $34.50 with discounts for seniors, students and children.  Tickets are available for purchase through the Maryland Hall box office: 410.280.5640 or www.mdhallarts.org.  More information is available at www.balletmaryland.org.