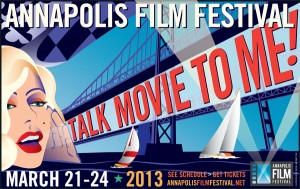 The films winning the most audience votes during the Annapolis Film Festival 2013 are:
Best Feature Narrative: Exquisite Corpse Project

Best Feature Documentary: Charles Bradley: Soul of America

Best Narrative Short: The Silk

Best Documentary Short: Good Karma $1
The Exquisite Corpse Project, directed by Ben Popik and directed by Joanna Popik, is the result of a challenge given to five members of a former comedy troupe, all good friends. Their task is to each write fifteen pages of a movie script having only read the previous writer's last five pages. This one-of-a-kind narrative-doc crossover is hilarious and touching.
Charles Bradley: Soul of America, directed by Poull Brien, chronicles the story of 62 year old aspiring soul singer and James Brown impersonator who becomes a star. After a life of abandonment, homelessness and tragedy, his debut album rockets on to Rolling Stone's top 50 albums of 2011. Mr. Bradley will giving a concert be at Ram's Head on Stage, West Street, Annapolis on April 12th.
The Silk, directed by Nathalie Boltt and Clare Burgess, is from New Zealand. Fifty years before, Herb had brought home from the war a length of beautiful silk. As he approaches death, his wife, Amy, takes out the scissors and undertakes a project which transforms their sorrow.
Good Karma $1, directed by Jason Berger and Amy Laslett, tells how Ad guru, Alex Bogusky collects signs from homeless people asking for money, wondering if he can help them get their message across better. It turns into a lesson in generosity and humility.
The Annapolis Film Festival attracted more than 2000 people to its first four-day, 96 film, nine panel, five location event. Filmmaker, Joanna Popik, commented that "she has been to film festivals all over the world and this has been her favorite!"
For more information about the Annapolis Film Festival, please visit www.annapolisfilmfestival.net.