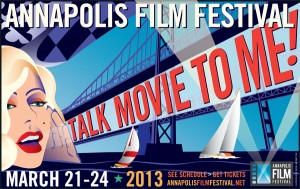 The Annapolis Film Festival, which will turn downtown Annapolis into Hollywood on the Chesapeake from March 21 to 24, firmed up its slate of more than 90 films. The films, features and shorts, narratives and documentaries, will be shown at Maryland Hall for the Creative Arts,, St. John's College, Banneker-Douglass Museum, St. Anne's Church, and Bay Theatre from 7 pm on Thursday night to 8 pm on Sunday night.
Opening the Festival is the mid-Atlantic premiere of the newly released feature film Ginger & Rosa, the story of two inseparable friends growing up in 1960s London as the Cuban Missile crisis looms. From director Sally Potter, it stars Elle Fanning, Alice Englert and Annette Bening. An Opening Night After Party follows the film at Maryland Hall.
Highlights of the Festival include:
An appearance by and conversation with Albert Maysles, one of America's foremost non-fiction filmmakers and a pioneer of the documentary. Made a Guggenheim Fellow in 1965, Mr. Maysles' classics are films such as

Salesman

, 

Grey Gardens 

and 

Gimme Shelter, 

the latter of which will be shown, Saturday, March 23. 

                       

The Contradictions of Fair Hope 

is narrated by Whoopi Goldberg and co-directed by S. Epatha Merkerson (from NBC's 

Law and Order

) who is expected to attend to discuss the film. Set in rural Alabama, this documentary chronicles one of the last remaining African American benevolent societies and examines today's moral ambiguities which juxtapose the hedonism of the young with their upright elders.  

In 1982, the life of the Lightweight Champion boxer, Ray "Boom Boom" Mancini, took a dramatic turn when his Korean opponent, Duk Koo Kim, died of injuries sustained in their fight. The documentary 

The Good Son: The Life of Ray "Boom Boom: Mancini 

traces the parallels in their lives. Producer Chris Tavlarides is expected to attend. 

 

Women in Film: Past and Future

. Forty five minutes of women-made films taken from the Women in Film and Television International Short Film Showcase followed by a panel discussion about the state of women in the industry. Panel includes Vanessa Crocini, director of 

Get Together Girls

, Janet Davidson (former AD/Director of the series 

Cagney & Lacey, Remington Steele, and current President of WIFTI), and other industry leaders. Saturday lunchtime at Maryland Hall for the Creative Arts.
Babygir

l, which premiered at the Tribeca Film Festival, is a beautifully crafted drama about a young woman who seeks to expose her mother's latest creepy boy toy. Irish Director Macdara Vallely is expected to attend.              

Two films of interest to the military: 

The Lost Reunions

 about PT Boat Veterans (Director Danny Diaz expected) and 

Soldiers of Paint 

which chronicles the annual restaging of the D-Day invasion…in Oklahoma….with paint! 

An African-American Experience in Education Showcase. Segregation to Leadership includes three documentaries: 

Bringing Back Bates: A Legacy to Remember; Mr. Stokes' Mission

; and 

Build Me A World: The Story of the Howard School

. There are also two panel discussions,  moderated by Carlesa Finney with some distinguished guests including Ambassador Shabbaz, Chris Haley, Janice Hayes-Williams, and Kurt Schmoke among others. Friday afternoon at Banneker-Douglass Museum.

Environmental Showcase. Two documentaries: 

Hawks in the City 

and 

Watershed

 will be shown followed by a panel of local environmental leaders and the directors of these films to discuss critical environmental issues.  Saturday morning at St. John's College.  

Bash at West. Saturday night celebration of the Film Festival at Loews Annapolis Hotel's restaurant WEST.  Tickets, $30, not included in Pass, include hors d'oeuvres, one drink and DJ. 

Bert Stern: Original Mad Man

, free to the public as part of the Maryland Day celebration. A revealing film about the heyday of American advertising. Sunday at 1.30 pm, Maryland Hall.

Student Showcase. Also free to the public. Four hours of short films from student filmmakers from all over the world. Sunday at noon, Maryland Hall, Room 205.   

Best of the Fest

. Audience-selected award-winners will be screened again during our closing ceremonies. Sunday from 4pm, Maryland Hall. 

Industry workshops include 

Funding and Distributing Your Film; An Inside Look at Casting

, and 

Sonic Storytelling: Sound for Film

. Panelists include high flying industry figures from Participant Films in LA and Casting Director Pat Moran.  These workshops take place at O'Callaghan's Hotel on Friday, March 22 in the afternoon.
In addition there are six full-length shorts programs, each up to two hours in duration. Three are thematic: women filmmakers, courtesy of WIFTI; one about loss and grief, sponsored by Hospice of the Chesapeake; and Splatterfest!, plenty of blood and gore at Bay Theatre on a Saturday night! Several of these shorts films will be followed by Q&As from the visiting filmmakers.
Two presentations include one feature and one short. One is about women's issues: After 17 Days comes from Iran and concerns an abandoned girl who is rescued from the streets by a loving woman; while The Ties That Bind is inspired by the true story of Sandra Daniels who overcame child abuse and broke free from the past. Sandra is played by Marla Gibbs (from The Jeffersons) who is expected to attend.
The other presentation includes Epitaph about a young gang member who struggles with his conscience and The Doll, starring Clayton LeBoeuf from Homicide and The Wire and filmed in Annapolis, about a man who must choose between avenging a terrible wrong or answering a higher calling.
Tickets to the Annapolis Film Festival are $75 for a four day Festival pass, $30 for a one day pass, or $10 for a single screening of a feature film or group of short films. Students tickets (under 25) for $40 or $8 are also available.
To purchase tickets, to find the detailed schedule, or to learn more about the films and who is scheduled to appear, please visit the website at www.annapolisfilmfestival.net. During the Festival passes can be purchased at the Loews Annapolis Hotel Festival headquarters. Tickets for individual screenings are available at each venue.
The Festival is being held in partnership with the City of Annapolis and the local Arts and Business communities.
Category: Crime News, Entertainment, Events, Just For Fun, LIFE IN THE AREA, Post To FB