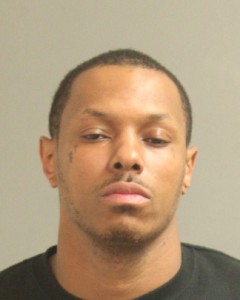 On February 2, 2013, at approximately 3:56 p.m., officers from Northern District responded to the Hampton Inn located in the 6600 block of Ritchie Highway in Glen Burnie for a report of a home invasion and armed robbery.
Upon arrival, officers spoke with the 70-year-old male victim and 70-year-old female victim from West Virginia, who were staying at the Hampton Inn. The victims stated that a male suspect knocked on their hotel room door and announced that he was with maintenance.  The victims opened the door and the suspect entered the hotel room pointing a handgun at the victims. The suspect demanded money and property from the victims and a struggle ensued between the male victim and suspect. Ultimately, the victims turned over an undetermined amount of U.S currency to the suspect, who then left the hotel room.
The suspect was observed by an employee of the Hampton Inn exiting the hotel on foot running across Ritchie Highway towards the Days Inn located in the 6600 block of Ritchie Highway. A lookout was broadcast for the suspect. Several Northern District patrol units arrived on the scene and began a canvass of the area. The suspect was located on the rear parking lot of the Days Inn hiding underneath a box truck, where he was taken into custody. The suspect was positively identified as being the individual involved in the incident. A subsequent search of the suspect revealed that he was in possession of the victims' money. Additionally, a handgun was confiscated from the suspect, who was arrested and transported to Northern District.
Suspect: Rodney Sylvester Wiggins, 26, 805 Priscilla Court, Baltimore, Md
Source: AACoPD
Category: Crime News, NEWS