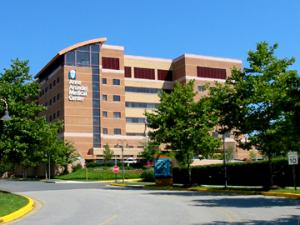 The Anne Arundel Medical Center (AAMC) Foundation will host its signature fundraiser on Saturday, April 27, 2013 from 6:00 p.m. to 12:00 midnight at the Hyatt Regency Hotel in Baltimore.  Proceeds from this year's gala will support the Geaton and JoAnn DeCesaris Cancer Institute and its critical role in serving those in the community that have been diagnosed with cancer.
The Geaton and JoAnn DeCesaris Cancer Institute is a regional leader in cancer care providing the latest in prevention, screening, diagnosis, treatment, and survivorship programs.  The DeCesaris Cancer Institute serves more than 1,500 people a day at all stages of the cancer journey, and is known for its highly skilled doctors, advanced technologies and therapies, compassionate staff, and integrated approaches. An estimated 13.7 million Americans with a history of cancer are alive today—and this number is expected to grow each year as baby boomers age and continued progress is made in the fight against the disease.
The proceeds from this year's gala will help the DeCesaris Cancer Institute continue to offer the best programs and medical care possible to the increasing number of those diagnosed and living with cancer.  The event celebrates AAMC's efforts to save lives and the impact that the DeCesaris Cancer Institute has on our community.
"One of the hallmarks of AAMC is its unique healing environment.  The DeCesaris Cancer Institute is known for providing the best medical care possible as part of this environment.  We are honored to chair this year's Gala to help benefit the many members of our community who use the services of the DeCesaris Cancer Institute because they are touched by cancer," said Larry Ulvila, CEO of Insurance Solutions and longtime supporter of AAMC, who is co-chairing the 2013 AAMC Foundation Gala with his wife, Liz.
The theme for this year's gala is "Sparkle", designed to express serenity, harmony, and hope—inspired benchmarks of the DeCesaris Cancer Institute's vision and commitment to our region.  The evening will include dinner, dancing to the live music of the band "Right On", and silent and live auctions.
Sponsorships start at $5,000 for a table of 10; a limited number of individual tickets are alsoavailable.  For more information on sponsorship and marketing opportunities, or to purchase tickets, please contact Kendra Smith Houghton, AAMC Foundation, at (443) 481-4739 or email [email protected].  For more information about the hospital and its healthcare services, visit askAAMC.org.
Category: Events, LIFE IN THE AREA, NEWS