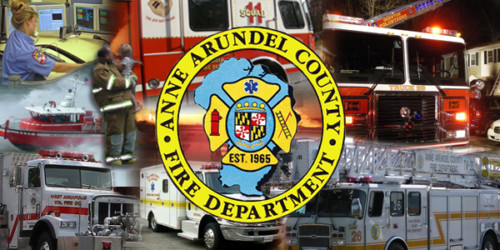 At 8:26 a.m. on Wednesday, January 2, 2013, Anne Arundel County Firefighters were dispatched to a reported dwelling fire in the unit block of Zona Road in the Parkway Village Mobile Home Park located in the Maryland City area of Anne Arundel County. The first unit to arrive on the scene reported visible fire coming from a one-story double-wide mobile home. An aggressive fire suppression and search/rescue operation was then initiated by the first arriving crews. In all, it took approximately 40 Firefighters from Anne Arundel, Ft. Meade, Prince Georges and Howard County Fire Departments 45 minutes to bring the "All Hands" incident under control. After the fire was extinguished, Firefighters working on the first floor living area of the home located the body of an occupant that Fire Department personnel determined had suffered fatal injuries as a result of the incident and was pronounced dead at the scene.
The fire was reported by neighbors who were alerted to the incident when they observed smoke coming from the home. The fire which originated on the first floor of the dwelling caused an estimated $150,000 in damages. The exact cause of the fire remains under investigation.
At this time, the name of the victim and the immediate cause of death are being withheld pending positive identification and the result of an autopsy by the State Medical Examiner. A preliminary investigation into the incident did reveal that there were smoke detectors in the dwelling however, it is unclear if they were operable at the time of the fire.
Source: AACoFD
Category: Local News, NEWS