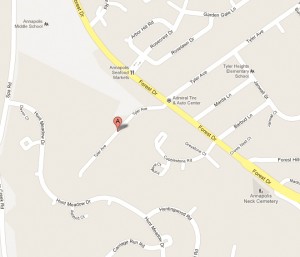 UPDATE 11:16pm 12/12/2012. Annapolis police have confirmed one victim is dead and another is in critical condition.
Annapolis and EMS crews are on the scene of a reported double shooting in the 1400 block of Tyler Avenue. The shooting occurred just before 10:00pm.
A Maryland State Police helicopter has been called to fly one patient to a trauma center with life threatening injuries. Police and EMS crews believe there is another victim who was shot, but they have not located him or her yet.
This shooting is in the Robinwood community which is owned and managed by the Housing Authority of the City of Annapolis (HACA).
This story is developing and more details will be provided as they are released.
Category: Breaking News, Crime News, NEWS