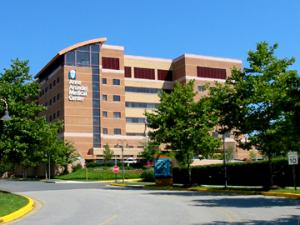 The Leapfrog Group's annual list of Top Hospitals was recently announced in Baltimore, Maryland and included Anne Arundel Medical Center (AAMC) in Annapolis, Maryland for the second consecutive year. Only two other hospitals in Maryland have the distinction of being a Top Hospital. The announcement came at Leapfrog's Annual Meeting, focusing on transparency as the key to improved hospital safety, and Top Hospital Awards.
"This award recognizes the high standards of our hospital across all services with a particular focus on patient safety, quality and effective use of resources.  Anne Arundel Medical Center is among an elite group of hospitals to earn this distinction. I am very proud of what we've accomplished here!" says Tori Bayless, president and CEO of AAMC.
"The Leapfrog Top Hospital distinction is by far the most competitive award a hospital can receive.  Leapfrog holds hospitals to the highest standards on behalf of our purchaser members and their employees. By achieving the Top Hospitalaccolade, Anne Arundel Medical Center has demonstrated exemplary performance across all areas of quality and patient safety that are analyzed on the Leapfrog Hospital Survey. This hospital stands out as one consistently providing safe, high quality care, and I would be comfortable sending my family to AAMC for care," said Leah Binder, President and CEO of The Leapfrog Group.
AAMC was selected as a Top Hospital out of nearly 1,200 hospitals participating in The Leapfrog Group's annual survey. This year, the Top Rural Hospital list includes a record 13 hospitals. Additionally, there are 67 Top Urban Hospitals and 12 Top Children's Hospitals. Other hospitals reaching this achievement include academic medical centers, teaching hospitals, children's hospitals, and community hospitals in rural, suburban and urban settings. The selection is based on the results of the Leapfrog Group's annual hospital survey, which measures hospitals' performance on patient safety and quality, focusing on three critical areas of hospital care: how patients fare, resource use, and management structures in place to prevent errors.  The results of the survey are posted on a website (http://www.leapfroggroup.org/cp) open to patients and families, the public, employers, and other purchasers of healthcare.