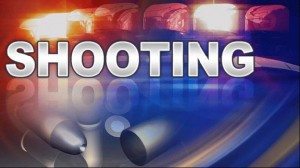 UPDATE: Police have release surveillance photos of the suspect. If you have any information, please contact police. Images below!
On November 14, 2012, at approximately 4:17 a.m., officers from the Western District responded to the Walmart store located in the 3500 block of Russett Green East in Laurel for a report of a shooting.
Upon arrival, officers located the 28-year-old male victim in the parking lot suffering from an apparent gunshot wound to the upper body. The victim was later transported to an area hospital for treatment of non-life threatening injuries. Initial investigation revealed that the suspect entered the store, approached the victim, who is a store employee, and demanded money from the business. The employee complied with the demands and turned over an undisclosed amount of money to the suspect, who forced the employee outside and later shot him in the parking lot before fleeing the scene.
A few minutes after officers arrived on scene, a second call came out for a vehicle that was fully engulfed in flames. That vehicle was located nearby and is believed to possibly be the suspect vehicle. At this time, the suspect, who is described as a white male, wearing a dark mask, black pants, a black jacket and a gray or white sweatshirt with a hood, has not been located and the investigation is ongoing. Anyone with information on this incident is urged to contact Detective Eric Wills of the Robbery Unit at 410-222-3432(3566) or Metro Crime Stoppers.
Source: AACoPD
Category: NEWS