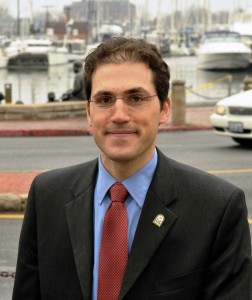 Annapolis Mayor Joshua J. Cohen announces the first major overhaul of the City's Ethics Code in eighteen years. Earlier this week, Mayor Cohen introduced Ordinance 41-12 to revise the Ethics Code, based upon recommendations prepared by the City's Ethics Commission.
"Annapolitans have a right to know that our city government subscribes to the highest standards of ethics and transparency," Mayor Cohen said. "I want to personally thank Chairman Dolezal and the members of our Ethics Commission for their diligence and attention to detail in offering this comprehensive update."
In April of 2011, a newly enacted State Law required Conflict of Interest and Financial Disclosure provisions for Maryland municipal elected officials and candidates for elected office to be equivalent to, or exceed, the requirements for State elected officials.
"The Ethics Commission had begun working on updating the code's definitions and language for clarity in November of 2009," Ethics Commission Chairman Jim Dolezal said. "This new requirement just became part of our working document."
When preparing the proposed legislation, the Ethics Commission reviewed ethics codes of similarly sized cities, including Frederick, Rockville, Laurel, and Bowie, as well as Maryland's Model A and B Codes for state municipalities.
The most significant changes to the Ethics Code include:
Provides the Ethics Commission with greater ability to enforce penalties for ethics violations
Provides for the Ethics Commission to publicly post on the City website its findings of violations, as well as summaries of its advisory opinions
Sets monetary limits on amount of meals that City officials may accept and on their ability to accept tickets to sporting events
The last revision to the Ethics Code (Title 2, Chapter 2.08) was made in 1994.
The proposed legislation was reviewed and approved by the State Ethics Commission on October 25, 2012.