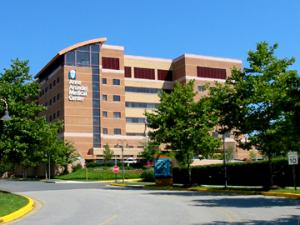 Anne Arundel Medical Center was recognized by the American Heart Association (AHA) as a Gold-Level Fit-Friendly company for implementing  programs to help employees eat better and move more.
"There's no better benefit to offer our employees than helping them have healthier, longer lives," says Chad Dillard, executive director of wellness programs at the hospital. "We are extremely honored and excited to be recognized by the American Heart Association," added Dillard. Anne Arundel Medical Center was recognized for its initiatives in:
offering employees physical activity support;
providing/increasing healthy eating options on campus;
promoting a wellness culture; and
implementing at least nine criteria as outlined by the American Heart Association in the areas of physical activity, nutrition and culture.
Anne Arundel Medical Center has 50 percent of its staff participating in its Energize wellness movement. The program was developed by staff in 2011 with the simple goal of improving employee health. "Energize is part of our Vision 2020, Living Healthier Together, which starts with our health care teams becoming a role model for the community," adds Dillard. To date, more than 1,400 employees participating in Energize have walked more than 190,000 miles and lost nearly 2,000 pounds.
According to the American Heart Association, American employers face increasing healthcare expenses and health-related losses in productivity that cost an estimated $225.8 billion a year. Many American adults spend most of their waking hours at sedentary jobs. Their lack of physical activity raises their risk for a host of medical problems, such as obesity, high blood pressure and diabetes. Employers face $12.7 billion in annual medical expenses due to obesity alone.
Part of the problem is that the rate of obesity among adults continues to grow. This could be a result of how much time Americans spend at work — an average of 47 hours per week, which is 164 hours more per year than a generation ago. The number of sedentary jobs among Americans has accelerated, too, rising 83 percent since 1950.