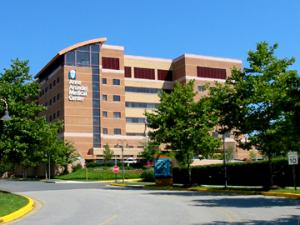 Anne Arundel Medical Center (AAMC) is celebrating the tenth anniversary of a heart program that has saved more than 1,000 heart attack patients. The program is a partnership with local emergency medical services (EMS) and paramedics who perform electrocardiograms (EKG) in the field to determine whether a patient will benefit from emergency cardiac catherization to open a blocked artery.
EMS services in Anne Arundel and Queen Anne counties have portable EKG monitors provided by the hospital. This allows the EMS personnel to send EKG to the hospital in advance of a patient's arrival, allowing the hospital staff to activate the catherization lab team, if necessary.
"In the last ten years, we have dramatically improved our response time in treating heart attack patients with ST-elevation," says Jonathan Altschuler, M.D., medical director of AAMC's cardiac catherization lab.
This coordination has made a significant difference in the time it takes for patients to receive angioplasty to clear a blockage. In 2002, the year the program started, it took patients 90-minutes from the ambulance to the catherization lab to receive life-saving intervention. Today it is less than 60-minutes.
"Having coordinated care with local emergency medical services (EMS) to provide rapid diagnosis and treatment of the heart problem is a critical step in saving the lives and improving outcomes of heart attack patients," said John Martin, M.D., medical director of AAMC's Heart and Vascular Institute.
"This program is an essential service for our community and we are grateful to the entire local EMS involved," says Altschuler.
AAMC is one of 13 hospitals in Maryland certified to provide percutaneous coronary intervention services (angioplasty or stents) for STEMI (ST-elevation myocardial infarction) heart attacks without open heart surgery services.