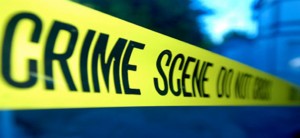 On October 4, 2012 at approximately 3:05pm, officers from the Eastern District were dispatched to an attempted burglary in the 8400 block of Alvin Road, Pasadena, Maryland.  The caller indicated a white male suspect wearing a black shirt and blue jeans tried to break into his neighbor's home, but the suspect fled on foot when confronted by the caller.  The caller indicated the suspect was last seen running into a wooded area near Maryland Avenue.  Numerous officers flooded the area in an attempt to set up a perimeter and locate the suspect.
Lake Shore Elementary School, located at 4531 Mountain Road, Pasadena, Maryland, is approximately ½ mile from the original incident scene on Alvin Road.  Upon becoming aware of police activity in the area, school officials requested guidance in reference to their upcoming student dismissal at 3:20pm.  School officials were only advised there was a non-school-related police emergency in the area.  Pending additional information, school officials elected to keep students inside the building, thus disrupting normal dismissal protocols.
At approximately 3:26pm, six minutes after Lake Shore Elementary School's normal dismissal time, and approximately twenty minutes after officers unsuccessfully searched for the suspect, the police patrol commander in charge of this incident indicated Lake Shore Elementary School could dismiss students per normal procedures.
At approximately 3:36pm, and as Lake Shore Elementary students were mid-dismissal, an officer near the back of Lake Shore Elementary School spotted the suspect and began chasing him on foot.  The sighting and subsequent foot chase led to numerous officers responding to the school's parking lot to assist, including a police K-9 unit.  The police helicopter additionally responded and flew overhead.  Lake Shore Elementary School officials were instructed to bring everyone back inside and secure their facility pending further police instruction.  A short time later, the number of officers in the area and the suspect's direction of travel made it safe for Lake Shore Elementary School to release students for continued dismissal.
At approximately 4:54pm, the suspect was apprehended without incident.  At the time of this writing, the investigation is continuing.  The exact charges against the suspect are not available at this time, but he has been arrested and will be charged with burglary-related offenses.  The suspect's name is:
Jason Thomas Donaldson of Severn, Maryland
Lake Shore Elementary School worked in close cooperation with police to comply with all police instructions.  No students, parents or other citizens were injured during this rapidly evolving emergency incident.
Source: AACoPD