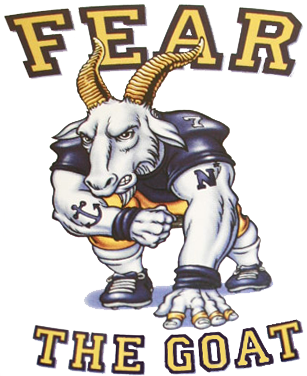 Fear The Goat!  Well, someone apparently didn't.
Cadets from West Point have been known to kidnap Bill, the Navy's mascot leading into the annual Army-Navy game. This time, the Cadets are probably off the hook, but police are investigating the theft of a life sized stuffed goat from parking lot of the Navy-Marine Corps Stadium this past Saturday during the Navy-Indiana game.
According to the police report, a member of the class of 1961 was celebrating at a tailgate with his life-sized stuffed goat complete with a Navy blue and gold scarf. Before the game, he secured the goat in his vehicle, but forgot to roll up the front passenger window. And by the the time he returned from the game, the goat had been goatnapped.
The goat is described as white in color and wearing a Blue and Gold Navy scarf. The police processed the car (fingerprints) with negative results.
Anyone with information, please contact police at 410-268-9000.
Category: Crime News, NEWS