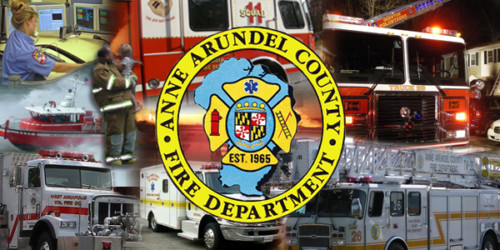 UPDATE:  The accident happened around 1am when a truck left Rt. 50 for unknown reasons and crashed through a guard rail along the Rt. 50 on ramp to Eastbound 50 from West St. The truck went airborne over the next guard rail and landed in a ravine upside down and catching fire. One passenger/driver was partially ejected and died at the scene(a male) and another passenger was fully ejected from the truck a female and was flown to Shock Trauma with unknown injuries.  (Images added below)
Fire crews were dispatched to the on-ramp to Route 50 and West Street last night shortly before 1:00am for an accident. Upon arrival, crews reported a car on fire–fully involved with a man possibly trapped.  In addition there was a 25 year-old female who was flown to shock-trauma due to the severity of her injuries. There has been no official update or statement and this story will be updated as soon as possible.
Images © 2012, Glenn A. Miller.
(L to R) Tim Sames and Kevin Lamb both from JP Towing in Annapolis, prepare to right truck for towing.

Category: Breaking News, Local News, NEWS