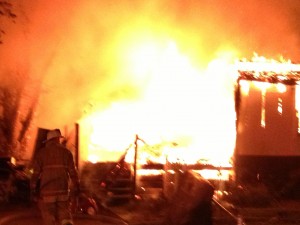 Anne Arundel, Prince Georges, and Calvert County fire crews are on the scene of a large fire in the Lyons Creek mobile home community in Lothian.  The fire was reported at 26 B Street shortly before 4:00am this morning.
When crews arrived, they reported heavy fire and called for a second alarm bringing in crews from adjacent Prince Georges and Calvert Counties. The fire destroyed one home, spread to a second, and caused severe damage to a third.
At one point officials believed a civilian was missing, but Anne Arundel County Breaking News and Events reported that all residents were able to escape.
Developing: we will have additional details as they become available from the fire department.
All images © 2012 courtesy of Anne Arundel County Breaking News and Events.