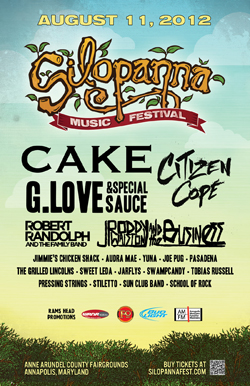 The Silopanna Music Festival brought more than 5,000 people together Saturday to enjoy a full day of live music at the Anne Arundel County Fairgrounds near Annapolis. The day-long celebration of music, food and fun, hosted by the Rams Head Group and presented by 103.1 WRNR, went off with only a slight delay thanks to a second run-in with Mother Nature.
Silopanna hosted 20 bands across three stages, featuring national recording artists CAKE, Citizen Cope, G.Love & Special Sauce, Robert Randolph and the Family Band, J. Roddy  Walston and the Business and the hometown favorite, Jimmie's Chicken Shack.
2011 was to be the inaugural year for the Silopanna Music Festival, but Rams Head promoters had to cancel the event due to Hurricane Irene.  During Saturday night's event, Mother Nature reminded attendees that she was still in charge by delivering evening rain showers on concert goers, who reveled in the downpour during Citizen Cope's set:
Rock on…..the show goes on even when it's pouring #silopannafest http://t.co/qtG0HYAw

— BeeprB (@BeeprB) August 12, 2012
Can't nobody hold @citizencope down @ #silopannafest #rainmakesgreathaze pic.twitter.com/B78niMG1

— Showtime Sound LLC (@Showtime_Sound) August 12, 2012
WE GOT POURED ON AND IT WAS AWESOME! 💦🎶❤ #citizencope

— Kelley Holocker (@Kho_18) August 12, 2012
And according to Terry Gabis, Tour Manager for CAKE the bands were just as enthused, "Late bad weather didn't dampen the spirits of the crowd or the "show must go on" spirit of the backstage crew and the artists in making the festival a success."
In addition to an incredible day of music, fans enjoyed gourmet food trucks from Washington D.C., free yoga sessions from Charm City Concierge, frosty beverages and live on-air entertainment from Annapolis-based AAA radio station, 103.1 WRNR in addition to vendors: Brown Eyed Girl, Syck Artistic Kydz, Annapolis Canoe N Kayak, School Of Rock Annapolis, Sharp Shirter, Fukitt Clothing, TM Enterprises, Lillie Pad Studio LLC, Ramon Matheu Pop Art, Roussell Family Arts, Capital Comics, Cutezzz's, Mid Atlantic Waterproofing, Heart on your Sleeve Promotions, Sunflower Trading Co, Originals by Zaida and Masquerade Studios
The one day festival benefitted AM | FM, a non-profit organization created to provide temporary financial relief to professional Annapolis musicians who cannot work. Rams Head representatives are still calculating the donation total, which will be made available soon.
The event was made possible through the support of sponsors:103.1 WRNR, Finlandia Vodka, Budweiser, Fordham Brewing Company, Bob Bell Hundai. Bob Bell Ford, Bob Bell Kia, Monster, M&T Bank, Head Count.org, Charm City Yoga, Chesapeake Bay Trust and Special Olympics of Maryland.
Photos from this year's event can be downloaded from silopannafest.tumblr.com
For more information please visit http://www.silopannafest.com
You can see Eye On Annapolis photos here!