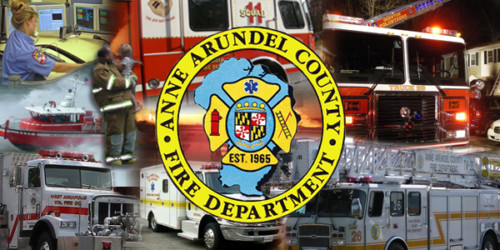 Around 9:32 p.m. on Sunday, July 1, 2012, Anne Arundel Countyfirefighters were dispatched to a reported dwelling fire in the 1300 block of Ferrara Drive in the Gambrills area of Anne Arundel County.
The first unit to arrive on the scene reported heavy smoke throughout a two story, duplex type dwelling.  The fire was discovered by a passer-by who attempted to alert the occupants of the dwelling; however, there was no response from the residents in one of the units of the duplex.  At this time, additional resources were immediately requested and fire suppression operations were initiated.
After forcing entry into the dwelling, firefighters quickly conducted a search of the home.  Within minutes, firefighters were able to locate a female occupant on the second floor of the dwelling who was found to be unconscious and unresponsive.  The occupant was removed from the dwelling and medical care was provided by Fire Department Paramedic's at the scene.
The patient, a female estimated to be in her 70's, suffered life threatening injuries as a result of the incident; she was transported priority 1 to Baltimore Washington Medical Center where she was later pronounced dead.
More than 40 firefighters from Anne Arundel County, Fort George G. Meade, and the BWI Airport Fire Departments worked about 40 minutes to bring the two (2) alarm incident under control.
The fire which originated on the first floor of the dwelling caused an estimated $80,000 in damages.  The exact cause of the fire remains under investigation.  At this time the name of the victim and the immediate cause of death are being withheld pending positive identification and the results of an autopsy being conducted by the State Medical Examiner.
If the cause of death is determined to be fire related, this will be the 4th fire death in the County for 2012. The preliminary investigation into the incident did reveal that there were no operable smoke detectors in the dwelling.  All residents are encouraged to ensure that they have operating smoke detectors in their homes and that they test these devices on a regular basis.
Related articles
Category: Breaking News, NEWS, OPINION