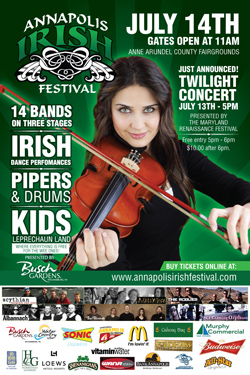 The heat wave has broken and the weather this weekend looks perfect for the 2nd Annual Annapolis Irish Festival. Tickets are still available and you can get yours right here.  You can download a copy of the program (PDF) to see all the festival has to offer, but here is a taste!
This year looks to be even bigger and better with the addition of a Friday night special concert preview  sponsored by the Maryland Renaissance Festival.  And don't forget, kids are FREE –and Busch Gardens is the sponsor for the Little Leprechaun Land which will include pony rides, moon bounce, entertainment, face painting and the Busch Gardens Animal Ambassadors!  There will be plenty of vendors to fill your bellies and shopping bags and of course the music… but what about the music?
Well, here is a little taste of what's to come.
Just what is Irish music of today?  For those who don't know, sit back, relax, tap your toes and  take a look and listen to some of the acts who will entertain you on July 13th and 14th!
Rousing and raucous, Scythian (sith-ee-yin) plays kicked-up Celtic and world music with hints of Gypsy and Klezmer, all infused with a touch of punk-rock sensibility. Take a pair of classically trained dueling fiddlers, toss in a rhythm guitar and the occasional funky accordion, then power it with the driving rhythm of a jazz percussionist, and you've got the ingredients for a show you won't soon forget. Their high-energy, adrenaline-peddling, interactive brand of music has one goal in mind: to get people on their feet and dancing. Their repertoire ranges from traditional and contemporary Celtic and folk music to the alluring and dramatic strains of Gypsy and Eastern European tunes, and then crosses back over the border to pick up some good old-fashioned bluegrass licks.

The Screaming Orphans are the four high-spirited sisters from Bundoran, County Donegal, Ireland. They have carved a great reputation of being a captivating and entertaining live band in America and abroad.
From an early age, the sisters sang and played traditional Irish music as their mother's back-up band in Ireland and across Europe. When they hit their teenage years, they formed their own rock band — the Screaming Orphans.
They have always admired the diversity of the American music scene and that was instrumental in their decision to relocate to America. Living in New York City has inspired them to explore new and exciting song writing and performance concepts that reflect their Celtic roots but crosses many cultural boundaries.
If you're wondering about the band's name…when the sisters decided to start their own band, and their mother no longer was the lead singer and their father the manager, they became "orphans." They "scream" for attention in the music industry to be heard by each other.

Albannach is Scots-Gaelic for "Scottish" or "Scotsman".  That's exactly what we are. Albannach are all born and bred in Scotland and our purpose in life is to share our intriguing culture, history and heritage by means of our music.
Albannach are not just another Scottish 'Pipes & Drums' band…we bring a new and exciting form of music to you. A championship winning piper, an extremely talented main drummer, bass drummers and bodhran musician bring you a brand new approach to percussion and Celtic music. Our style of music is exciting, energetic and enchanting and we promise to leave you begging for more.

Formed in 2006, The Rovers have taken the Celtic music scene by storm thanks to an eclectic mix of traditional roots and blazing instrumentals with an amped up rock twist. Their musicianship and show is nothing short of high octane. Their fan base is continually expanding and covers people of all ages from all walks of life.
Fronted by Ray Murphy (lead guitar) from Dublin, Ireland and backed by Jenn Garmen (fiddle), Eddie McGowan (bass and bagpipes), Jim Martin, (percussion), and drummer Kevin Shook, they are sure to keep you on edge until the final track has been played.

The ROGUES have performed for over 1 million people. In 2010 they won Album and Group of the Year and headlined in Las Vegas at the Monte Carlo. The ROGUES have released 9 albums, boast 7 combined World Pipe Band Championships, and have appeared with the US Air Force Symphony Orchestra. For nearly two decades the performances of this CeltRock Folk Classical group have electrified audiences on two continents. Their hard-won road successes have established them as artists with bona fide international acclaim. Renowned for their musical skill, quick wit, and engaging stage show the ROGUES have mastered the art of creating an immediate connection with their audiences. The ROGUES are fast becoming a household name with music lovers around the world, loved by young and old of all backgrounds.

The ayes have it — Barleyjuice is a grand group of talented tunesmiths and prodigious performers, and the absolute best time you can have at a concert without removing your kilt. With five studio albums and a double CD collection to date, these five kilted yanks are currently one of the most beloved celtic rock bands in the USA. Kyf Brewer's signature whiskey-soaked vocals perfectly trademark the group's quick-witted and catchy originals, and partner Keith "Swanny" Swanson is no slouch, lithely covering additional lead vocals, guitar, mandolin, whistle, bouzouki, and bagpipes.
Backing Brewer & Swanson are a mad trio: captivating fiddler Shelley Weiss, whose training swings from classical to bluegrass within the most authentic jigs & hornpipes; drummer Gregor Schroeder, a powerhouse of driving decadence; and hopping bassist Eric Worthington, musical snake-charmer of the deep and dulcet.

Kilmaine Saints, a Harrisburg Pipe & Drum band became friends in 2009 after learning that they each shared a love for music and a background in Punk Rock 101. They conspired to create a Celtic rock band that would "play for beer" the following St Patrick's Day. The Saints have continued to pound through blistering, high-energy live sets that keep people wanting more. In short, Kilmaine Saints are equal parts Irish swagger, Scottish pride, and whiskey. This explosive, high-energy Celtic rock band will lift your hearts, your spirits, and your pint when you're not looking!

Take a solid foundation in traditional Irish, rock it up with a pinch of country/bluegrass fusion, and you'd just be starting to describe the sound of Crossing Celtic. Call it Irish…with a twist.
The members of Crossing Celtic are no strangers to the Irish-American music scene. Audiences will find themselves on their feet, singing and clapping as Crossing Celtic brings their style of high energy "feel good" fun to every performance.

Seamus Kennedy is an Irish singer, songwriter, musician, comedian, all-around entertainer, and author. He's incredibly talented and fun!
He has a huge repertoire that includes traditional Irish music, classic Country & Western, American standards, Scottish ballads, and kids' shows: entertainment for "the wee ones." Originally from Belfast, Northern Ireland, he has been entertaining audiences all over the United States for almost four decades. An accomplished guitarist with a ready wit and a vast store of songs, he travels the country performing for thousands of people each year.
Kennedy's ability to combine a total command of the music with humor makes him unique in the industry. His strong interactive entertainment skills and his participation with his audiences have helped him create an exceptionally loyal fan base everywhere he goes.

Brendan's Voyage, was formed in the early 90s with Brian Gaffney from Tralee County Kerry, and Fergus Kennedy and Steve Morris who are both from Strabane County Tyrone.
Brian's guitar and crooning vocals, Fergus's accomplished run of the keyboards and Steve's unsurpassed fiddle, guitar and vocals have made them a much sought after band for concerts, festivals and major events all around America for many years. Brendan's Voyage is sure to bring any crowd to its feet as audience members revel in their diversity and lively performances.
To get your tickets ($15 in advance, $20 at the gate) please click here!