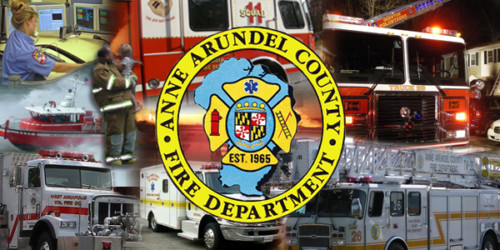 UPDATE: From the Anne Arundel Medical Center:
At approximately 6pm on July 23, 2012, smoke was reported to be coming from the third floor of Anne Arundel Medical Center (AAMC)'s Clatanoff Pavilion on the Mother/Baby Unit.

Fifteen patients—moms with their babies—receiving care on the third floor were safely evacuated to the neighboring Wayson Pavilion initially and then were relocated to alternative locations throughout the hospital to continue safely receiving care. On the second floor of the Clatanoff Pavilion, all laboring moms were transferred to another area of the hospital where they are being cared for safely. In addition, AAMC has evacuated approximately 10 patients from the Women's Surgical Unit on the first floor of the Clatanoff Pavilion and relocated them to the main hospital building because of the smoke smell. All patients are safe and continue to safely receive care.

Any laboring moms may come to the Emergency Room at this time. AAMC is able to care for all laboring moms and any other patients who come to the hospital for care.

The fire department determined the source of the smoke was an electrical fire in a utility closet on the third floor of the Clatanoff Pavilion. It was contained within minutes after the smoke was reported. The fire department continues their efforts to work on smoke removal and give the green light for AAMC to return to the Clatanoff to clean the building. Environmental Services will commence their work to clean within the next hour. Upon cleaning and ensuring safety, patients will return to their rooms. The situation is under control and we are fully cooperating with the fire department.

AAMC will continue to provide periodic updates as they become available.
UPDATE: Reports from a physician at the hospital, all moms and babies have been evacuated to other pavilions and all are safe.
UPDATE: Unconfirmed reports are indicating that the electrical panel was located in the labor and delivery unit of the Clatanoff Pavilion.
UPDATE: At 6:30pm, fire department officials called for the third alarm to handle the ventilation of the smoke in the building.
A 2-Alarm fire in an electrical panel has caused the third floor of the Clatanoff Pavilion to fill with smoke prompting an evacuation of the building located on the Anne Arundel Medical Center Campus.
The fire broke out shortly before 6:00 pm. Arriving crews reported heavy smoke from the roof of the building and immediately called for a 2nd alarm. The fire was located and extinguished in 30 minutes as firefighters, EMS, and hospital staff worked on evacuation of the building and ventilation.
At this time, there do not appear to be any injuries; however, this has not been confirmed by the Anne Arundel County Fire Department. Please stay tuned for more information as it becomes available.
Category: Breaking News, NEWS