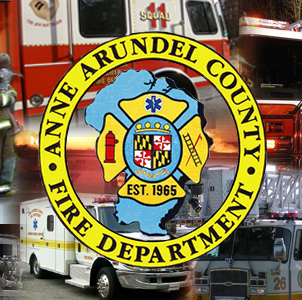 County Executive John R. Leopold and Fire Chief John Robert Ray have announced that a new basic life support ambulance has been placed in-service at the Harmans-Dorsey Fire Station.
The unit will be staffed by two round the clock, dedicated Firefighter/EMTs and will serve the Harmans-Dorsey area, including: the Arundel Mills Mall, Maryland Live Casino, and other surrounding communities.
"This service enhancement was a planned addition to the area and was in direct response to the new development and the anticipated increase in service requests" said County Executive John R. Leopold.  Funding for the project was made available in County Executive John R. Leopold's FY2013 budget.
"This service improvement was originally scheduled to take place when the new Maryland Live Casino opened; however, we decided to place the unit in service a little earlier due to some of the venues and attractions bringing an influx of people to the area prior to the official opening of the casino" said Fire Chief John Robert Ray.
In addition, a new ambulance has been purchased for the project and the Department expects to take delivery of the new unit sometime later this year.  In the meantime, an existing ambulance from the Department's reserve fleet will be utilized until the new unit arrives.