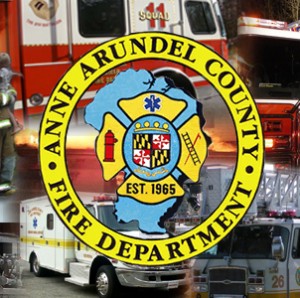 Fire crews remain on the scene of a 2 alarm fire at DeVere Insulation located at 7501 Resource Court in Glen Burnie. Arriving units saw smoke inside the building and a sprinkler activation had the fire department calling for mutual aid from Baltimore City, Baltimore County, and Queen Anne's County fire departments.
DeVere Insulation has been in business since 1987 and is one of the largest insulation contractors in the state serving Maryland, Pennsylvania, and West Virginia.
According to the Anne Arundel County Fire Department Public Information Officer, Division Chief Michael Cox's twitter feed, the fire was placed under control at 8:21am and they expected mutual aid fire companies to remain in the scene for an additional three hours.
[blackbirdpie url="http://twitter.com/AACountyFirePIO/status/191139105999044608″]
To view some images from the fire, please click on the links provided in the following tweet.
[blackbirdpie url="http://twitter.com/AACountyFirePIO/status/191162400895021056″]