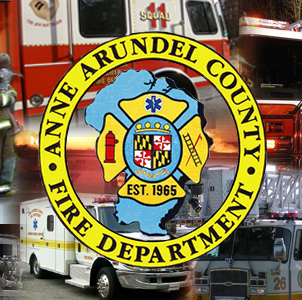 A 55 year old woman was struck and killed on Muddy Creek Road last night. From the police report (below) it seems like Cheryl Howes of Churchton may have been fleeing a fire scene when she was struck.
On March 12, 2012, at approximately 8:53 p.m., members of the Traffic Safety Section responded to the area of 5501 Muddy Creek Road for an accident involving a pedestrian. Preliminary investigation revealed that a 2005 Chevy Tahoe was traveling south on Muddy Creek Road when it encountered a female pedestrian running into the roadway. The Chevy Tahoe subsequently struck the female in the southbound lane. Paramedics pronounced the female pedestrian dead at the scene.

Additionally, at approximately 8:55 p.m., a call was received for a report of a camper trailer fire at 5502 Muddy Creek Road. The aforementioned pedestrian was apparently observed running from the area of the camper trailer where she was staying out into the roadway before being struck. Detectives from the Anne Arundel County Police Department's Criminal Investigation Division are working in conjunction with Fire Investigators from the Anne Arundel County Fire Department to determine any possible connection between the two incidents and if foul play was involved.
Related articles