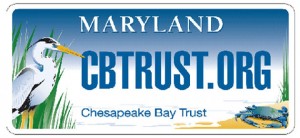 The Chesapeake Bay Trust announced the winners of its 2012 Annual Awards Program at a ceremony held in the Miller Senate Office Building in Annapolis. Launched in 1998, the Trust's Annual Awards Program recognizes six awardees each year for a variety of environmental leadership roles and achievements. Last evening more than 150 Chesapeake Bay supporters joined members of the Maryland General Assembly to honor these exceptional individuals and their contributions to environmental education, Bay restoration and citizen stewardship.
"The future of the Chesapeake Bay depends on strong leadership from local citizens dedicated to driving change in their communities and beyond," said Allen Hance, executive director of the Chesapeake Bay Trust. "This year's awardees, ranging from high school juniors to lifelong environmental advocates, exemplify the passion, commitment and creativity that is needed to restore and protect the Bay.  We truly appreciate all they do to improve the health of the watershed and are honored to recognize them as the Trust's 2012 award recipients."
The Chesapeake Bay Trust's 2012 Annual Award winners include:
Dr. Torrey Brown Award: President Thomas V. Mike Miller, Jr.
President of the Maryland Senate, Calvert and Prince George's Counties
This year the Trust honors Maryland Senate President Thomas V. Mike Miller, Jr. for his leadership on the Chesapeake Bay. In 2010, President Miller spearheaded the creation of the Chesapeake Conservation Corps, a program run by the Trust that provides career and leadership training for young people interested in environmental careers and Chesapeake Bay protection.  In less than two years, 37 outstanding individuals have participated in the program, with the first class graduating in November 2011. Of the inaugural class of 16, almost half have been hired by their host organizations, thus providing sustained employment for young people in Maryland.
2012 Environmental Educator of the Year: Erol Miller
Northwood High School, Montgomery County
A science teacher at Northwood, Erol Miller created the Northwood Chesapeake Bay Trail, a new environmental outdoor classroom and community green space in Montgomery County.  This project included removing over 11,000 pounds of trash, clearing invasive species and installing educational materials and signs. Miller also led a team of teachers and students to develop a Maryland Green School application that received praise from the U.S. Department of Education, among many other accomplishments. Along with his award, Miller will have the opportunity to apply for a $2,500 grant to be used for environmental projects and programs for his school.
Student of the Year Scholarship: Solon Snider
Severna Park High School, Anne Arundel County
Solon Snider, a junior at Severna Park, is being honored for his outstanding commitment to environmental issues that affect both his school and local community. The $5,000 scholarship winner helped develop a successful recycling program at his school, and is leading the application process for Severna Park High School to be named a Maryland Green School. Snider is an active member of the Chesapeake Regional Association of Student Councils and was recently selected to serve as co-chairman of their Environmental and Community Action Committee. As co-chairman, he has led numerous workshops to inform students and communities of their impact on the environment and the Chesapeake Bay.
Honorable Arthur Dorman Scholarship: Natalie Oliver
Bladensburg High School, Prince George's County
The Trust's $5,000 Arthur Dorman Scholarship is presented each year to a Maryland student who demonstrates a commitment to the environment and, as a student of color, exhibits exemplary leadership in promoting diversity and inclusion in her community. A junior at Bladensburg, Oliver's passion for the environment has been shaped by her science studies, her membership in the Port Towns Youth Council and her volunteer hours with the Anacostia Watershed Society. As a volunteer, Oliver has been responsible for removing countless pounds of trash and invasive species from the Anacostia, as well as managing tree maintenance efforts in this urban watershed.
Ellen Fraites Wagner Award: Robert Gallagher
West/Rhode Riverkeeper, Anne Arundel County
This award recognizes an individual who has shown exceptional commitment to the Chesapeake Bay and is given this year to Anne Arundel County resident, Robert Gallagher. As the founder of the West/Rhode Riverkeeper, Gallagher has engaged and empowered the area's local communities and residents through outreach work and volunteer programs. Most recently, he helped found the Anne Arundel County Chapter of the League of Conservation Voters and is well-known and widely-respected as a dedicated advocate for Bay conservation.
Melanie Teems Award: C.A.R.E. Community Association, Inc.
Baltimore City
The Trust's Melanie Teems Award recognizes an exemplary grant project that engages Marylanders in Bay education and restoration work. The C.A.R.E. Community Association is being honored this year for their outreach and community engagement work to improve east Baltimore City. With grant support from the Trust, C.A.R.E. was able to implement a trash removal and mural painting project that raised awareness and connected residents to their Chesapeake Bay watershed while also reducing illegal dumping.  It is hoped that these efforts will lead to a decrease in debris and pollutants entering local waterways and an increase in overall water quality over time.