Inaugural Funding Questions Emerge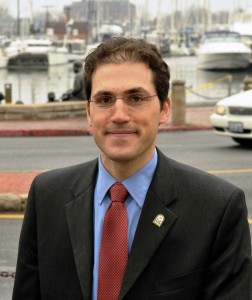 CORRECTION: The "Democratic Victory Party" is scheduled for December 8, 2009 and is indeed a partisan party and separate from the Inaugural events. The party for which funds are being solicited is on the 7th. We regret the error.
Yesterday, Mayor-Elect Josh Cohen announced that he did not want any public money used for his Inaugural celebration on December 7, 2009. Certainly this is an appropriate stance to take given the current economy, and in particular the City's finances, which are yet to really be evaluated. However, he advised that the party would go on; and that funding woudl be coming from a non-profit foundation–Annapolis Community Foundation.
One local blog, Annapolis Political Scene, feels that this is a good move and shows "fiscal austerity" on behalf of the Mayor-Elect.  However, many of the comments disagree and feel that a celebration is not warranted for a mayor and council. Other commenters have suggested that this is proof that Cohen and Moyer are indeed not as separate as Cohen claims. The foundation appears to be a city run foundation with City Attorney Stephen Kling as chairman.
Annapolis Capital Punishment also chimes in on this subject by pointing out that this foundation appears to have been the money machine behind several failed city (Moyer?) projects such as Annapolis Alive and Rock For Youth.
While the foundation certainly does seem to do a lot of good work, it does seem that it has been used to advance political agendas in the past. As Annapolis Capital Punishment noted, the Board and staff are stacked with people with very close ties to both Ellen Moyer and Josh Cohen.
To further confuse the situation, consider the mission of the Annapolis Community Foundation:
The Annapolis Community Foundation provides resources to enhance the quality of life for the citizens of the Annapolis community.  Its role is to be a leader and resource for philanthropy in Annapolis by anticipating and responding to community needs, supporting a broad range of programs and projects, building and managing permanent endowments, and granting funds.
It appears that this is a non-partisan foundation, yet the party appears to be billed as a "Democratic Victory Party". (See correction above)
Is this good business to be running a political party (in the purest sense) through a supposed non-partisan foundation? The foundation claims to have a $2500 limit on grants and only awards grants:
Projects must be classified by you as arts and culture, community renewal, education, health, basic human neds [sic], public safety, environmental improvement, or historic preservation.
Certainly, this qualifies for "community renewal", but how much of a part can be thrown for $2500?
It seems that if this is a "Democratic Victory Party" in honor of the Mayor-Elect and the incoming Aldermen, that it makes sense that perhaps their campaigns pay for the soiree. Campaign reports are not due out until tomorrow, but as of 6 days before the election the Mayor-Elect and the 8 winning aldermen had nearly $100,000 of cash on hand. If you add in the Annapolis Democratic Central Committee, that total increases to $108,000 in cash on hand.
What do you think?