Central Committee Unanimously Supports Cohen
At a very brief meeting, Josh Cohen, the second place finisher in the recent primary, was selected to represent the Democratic Party in the upcoming election.
The meeting was called to order at 7:00pm with 5 members present and one on the phone. Chairman Nick Berry explained how the meeting would be run, introduced the Aldermanic Candidates and moved into nominations. Only one name was submitted into nomination by Trudy McGowan–whom Berry introduced as Trudy McFall. With only one name in the running, it became obvious that the nominee would be Josh Cohen.
Why Josh?
After the nominations were closed, each member was asked to speak as to why they support Josh for the nomination.
Chuck Weikel: Josh is electable and has won elections before and he has depth.
Trudy McGowan: Josh satisfied my needs when I lived in Watergate. It was good that he left the City to go to the County. We need to keep a Democrat in City Hall.
Bess Demas: He is a native son. He grew up near me. He knows the city. He fished and crabbed in Spa Creek. Because he worked for the City and County it's a good thing.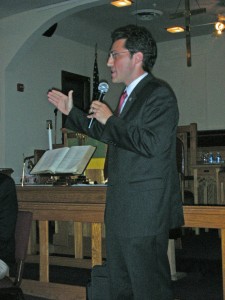 Gail Smith: Recused herself from the vote because she is Josh's Legislative Aide, but spoke to the numbers of voters who supported Josh in her Ward (2) and the City in general.
Tony Evans: (Was not present but was on a cell phone.)  Josh is thoroughly vetted and he ran for Alderman and County Council.
Nick Berry: There were two very good candidates and I  concur with the committee. We can win and that is the key issue.
Emptiness
All in all, the process left a lot to be desired. Rumors had been swirling for the past week that this nomination was a political move orchestrated by the "Democratic Machine" consisting of Speaker of the House Mike Busch, Mayor Ellen Moyer and Senator John Astle. This meeting did nothing to dispel that perception when there was only one nominee and absolutely no discussion. It was further emphasized when Josh announced he had a planned campaign event at noon tomorrow at City Dock. It seemed the good old boy network was alive and well.
Josh Cohen is very capable of running the City and the disillusionment is not for the Candidate but for the process. We spoke with a former candidate for Mayor on the way out who said, "I wish they had told me it was a fix all along. At least I would not have spent the $3000 on my campaign." The process certainly supports that theory and the Annapolis Democratic Central Committee ought to be ashamed.
We said that Annapolis had failed it's voters last week. We stand by that.
The Cohen Campaign sent out a press release at 7:55pm with Josh's comments to the committee. (Full release after the jump)
This evening the Annapolis Democratic Central Committee unanimously appointed me as the Democratic Nominee for Mayor.

I thank the Central Committee for its faith and confidence in me to represent our Party before the voters on Election Day.  I also thank all seven Democratic candidates for City Council who have expressed their unified support for my nomination.

I accept this nomination with deep humility. This is not the way that anyone wants to receive a nomination, particularly after such an historic election.  It is a tremendous privilege to be given a second chance to continue this campaign.

I am well aware that I was not the first choice of voters in the Democratic Primary.  During the next five and a half weeks, I will be actively reaching out to people across Annapolis and talking with them about the future of our town.  I will be working especially hard to reach out to supporters of Zina and the other candidates to earn their votes on November 3rd.

Zina Pierre and her team ran a tremendous campaign and made history.  It has been heartbreaking to feel the tremendous sense of accomplishment turn so quickly into disappointment and anger.  The events of the past week have been painful not only for Zina's supporters, and not only for the Democratic Party, but for our whole town.

Our ability to come together as a community during these next days and weeks will have implications far beyond this election.  If we stand united now, we can make possible more meaningful progress on a host of issues in the future.

Needless to say, it is a tall order for any candidate to step into a situation like this.  I accept this nomination with a sober appreciation of the challenge ahead, but also with a clarity of purpose, because now more than ever our town needs a fresh start with a steady hand at the helm.  We need political leadership that truly values the diversity of our Annapolis and respects our differences.  We need a mayor who will be the mayor for all of Annapolis.

Election Day is only five and a half weeks away.  The next phase of our campaign is already a week and a half late getting out of the gate.  We do not have a moment to spare.

Saturday at noon I will kick off the next phase of my campaign at the Kunta Kinte-Alex Haley Memorial at City Dock.  I hope you can join me.

Best,

Josh