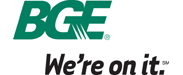 BGE Customers Still Have Reprieve. No Firm Answer From Utility.
BGE and the PSC clashed yesterday as they tried to hash out what to do with 208,000 customers who are late on their electric payment. It appeared that the PSC was not too happy with the BGE proposal and sent them back to the drawing board to fine tune the proposal.
BGE proposed that all arrearages be repaid in full before the next heating season allowing 9 months of no interest payments. However, they will require 25%, 50% or 75% of the past due amount to be paid up front. PSC Chairman Doug Nazarian questioned how this plan was any different that a normal payment plan available at any time and called this a "shell game" being played by BGE.
While no specific date came from the meeting, turn-offs are still suspended and BGE should be in touch with past due customers to make payment arrangements prior to any turn-off.
208,000 BGE customers have outstanding balances ranging from two days to several months
84,000 BGE customers are in danger of getting a termination notice