By now, we all know about how messed up the bids are for slot machines. The Capital Gazette never hid its disdain for the slot referendum leading up to election day in its editorial pages.  And apparently, the disdain continues today.
In today's Editorial, The Capital alludes that it knows what voters think. And to think that we have been wasting all those tax dollars holding elections when we could have just called The Capital!
In the Editorial, The Capital states:
We're convinced most voters, despite the vagueness of the ballot, thought they were voting for slots at the Laurel racetrack. Containing slots to a confined location already engaged in gambling is more acceptable than developing a new site close to homes and businesses…Although there is no evidence those who voted in favor of the referendum are now opposed to a slots parlor near Arundel Mills, our hunch is they do…However, the County Council shouldn't be compelled to make a zoning change if they feel the new location is not what the voters had in mind.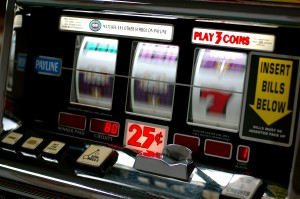 Their argument is that they think the voters did not know the definition of two miles. According to the ballot question, slots would be allowed within a two miles of MD Route 295. That seems pretty clear to me. If you live withing two miles of MD Route 295 there is a chance you may have slot machines (or video terminals) in your neighborhood.
But what really strikes me is that The Capital is still forging ahead with their agenda even though the voters have spoken. All one has to do is look at the results. In the Statewide vote, the question passed with 59% of the voters in favor. In Anne Arundel County, the margin increased (despite the incorrect figures stated by The Capital) to 63%. Almost 2/3 of out County population is in favor of the slots. Yet, The Capital is encouraging the County Council to block any slots if they "feel" it is not what the voters had in mind.
Once again, the County Council was elected by these same voters that approved the slot machines. These County Council members should be doing what their constituents want–not what The Capital "feels" their constituents want.  And if it comes down to the wire, the County Council should hold several public testimony hearings to really understand how the citizens of Anne Arundel County "feel". I am pretty sure The Capital is not the most accurate barometer.