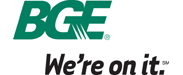 The Baltimore Spectator is reporting that the Office of External Affairs is hiring two more employees to keep up with the influx of complaints regarding BGE's billing practices.  According to the Baltimore Spectator, an employee of the OEA is quotes as saying, "Our calls are up 100% from this time last year. "
As has been reported here, BGE has come under fire from the State's PSC and recently was caught over inflating their bills by estimating usage at three times actual.
The PSC has temporarily placed a moratorium on utility service disconnections until they can sort out this mess.  And they said deregulation would be good? Is it any wonder they are showing a terrific profit and are able to offer their executives such wonderful bonuses? As the Spectator suggests, maybe the color gree in their logo has nothing to do with environmental concern after all!